Before I get to today's post I want to share Mingle Monday with you! If you're looking for new blogs to follow, you should definitely check out Mingle Monday at
Life of Meg's
blog. Each week, tons of bloggers head over to her site, to Mingle and meet each other by submitting their blogs and visiting others. I've been doing it for a few months now, and have met some great people through it. You can enter your blog up until Wednesday night. Be sure to check it out!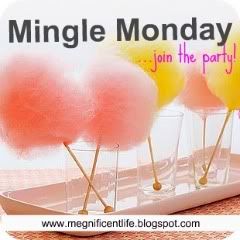 Staying Organized
I've said it before and I've said it again, with all the amazing wedding websites and blogs out there, sometimes I am on major information overload. With all the blogs I read and news articles on weddings that I get each day, how can I keep track of all this information?!?!
Google is my best friend. Within gmail I access blogger, google reader, google docs, google calendar (which Chris and I "share" so neither of us can ever say "but you didn't tell me about this!") Basically, I think everyone should use gmail, and all the amazing features you can access through it. One great feature gmail offers is labels. These work just like folders, which took me a while to grasp. In order to keep my inbox manageable, I move most of my mail to its corresponding label (or folder) once I don't need it anymore, but don't want to delete it. Any and ALL correspondence with any wedding vendor, my family, Chris, my sister, or friends, regarding anything wedding related gets saved into one of these folders.
Google Reader
overwhelms me, but it is helpful with staying organized and keeping up with the hundreds of blogs I follow. I star items and also have my blogs organized into various folders I've created:
Google Docs.
I was using this a lot in the beginning of our wedding planning process. Especially when our guest list needed to be sent around to both our parents. Being able to share these documents with each other was very helpful. I should have utilized this feature more, but I have a feeling as we're going to be using it more over the next few months.
Weddzilla Bookmark:
How many times have you saved an image you really loved from a website or blog, and then not remembered which website you got it from? After awhile, I had hundreds of wedding pictures saved to a lone "wedding" folder in My Pictures folder with no organization, no nothing an taking up room on my computer. Then, I discovered the relatively new website called
Weddzilla.com.
Weddzilla allows you to bookmark an image from almost anywhere directly to your account online. First, you'll need to create an account with Weddzilla. Then, add the Weddzilla bookmark to your computer:
Weddzilla then strips all content other than images from the page, allowing you to click on the image you want.
Note: you must be signed into Weddzilla in order for the Weddmark to work. And just like that, your picture is now filed online, in your account, in the appropriate category. Also worth noting, you can include the link to the website you found it on. No more wondering where you found your images so you can properly site them online!
Best of all, I can access these inspirational pictures on any computer, not just the computer I save them to! So when I go home, and want to show my mom some pictures of things I've saved, I can just sign into my account and all my pictures are right there! I really encourage all brides to sign up for the weddmark as soon as they get engaged!
How do you stay organized? Do you have any organizational secrets?